scroll down for english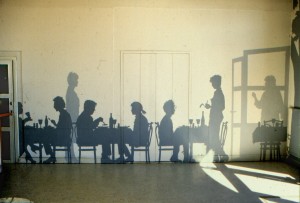 I centrala Stockholm kunde man finna denna restaurang på Fredsgatan 12. Det var omöjligt att beställa bord då det alltid var fullt.
Jag lånade kända och okända människors skuggor som jag sedan klistrade upp på väggarna. Generöst lånade en intellektuell, en journalist, två bandmedlemmar ur Eurythmics, en törstig minister, en studerande, två mästerkockar, två svenssons, en fransk punkare, en vaktmästare, en hovmästare, en servitris och en servitör och flera andra för den stora sakens skull. Jag försökte senare lämna tillbaka deras skuggor men det var inte möjligt. Likt sagan om Peter Pan så är skuggorna lösa någonstans därute.
In central Stockholm you could once find this restaurant at Fredsgatan 12. It was impossible to book a table because it was always full.
I borrowed known and unknown people's shadows and pasted them on the walls. One intellectual, one journalist, two band members of Eurythmics, one thirsty minister, one or two students, two master chefs, two Mr Smith's, one french punk rocker, one janitor, one head waiter, one waitress and one waiter plus several others generously sacrificed theirs for the great cause. I later tried to bring back their shadows but it wasn't possible. Just as in the Peter Pan saga all the shadows are on the loose somewhere out there.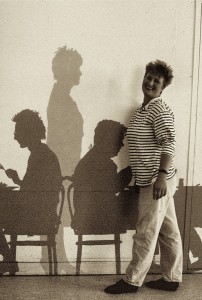 Glad skugglös hovmästare – Happy shadowless head waiter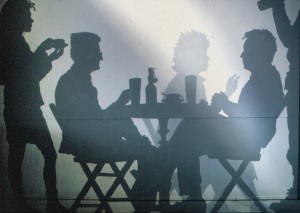 Å hoppsan en minister – Oops, a minister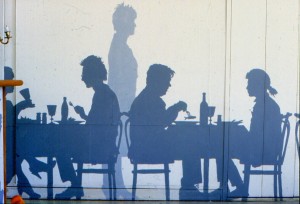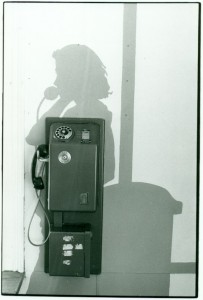 Du kan alltid ringa – You can always call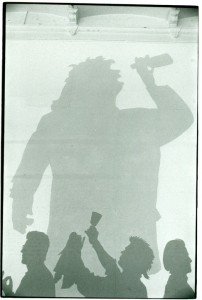 Masse den törstige – Masse the thirsty man
Vyer mot gatan – Views to the street